Thanks to my friend Erin for pointing this out to me right here on LiveJournal! The latest issue of FANGORIA has a really great article on my first independent movie, CONJURE!

The article does a fantastic job not only giving a synopsis of the supernatural thriller, but the trials it took to make it here in Detroit and Hollywood. It covers everything from who Sarah and I are, and how I went from being a STAR WARS artist to producing a movie of my own.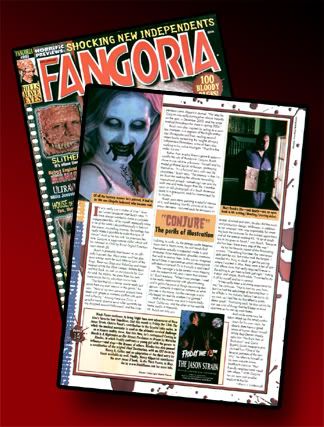 Speaking of the movie, it comes to DVD this March 28th from Razor Digital Entertainment! If you're interested, you can Preorder CONJURE right HERE at HorrorMovies.com. Right now they are running an incredible sale price of just $9.77! And- EVERYONE who preorders will be entered into a drawing where 8 lucky winners will receive ORIGINAL PIECES OF ARTWORK by yours truly!

Of course, you can always find out the latest on CONJURE, and download the trailer at ConjureTheMovie.com!